A Comprehensive Guide On Screw Assembly Automation For Manufacturing Fully Automated Assembly Line
Views: 28 Author: Automatic Screw Feeder Machine Manufacturer Publish Time: 2021-06-02 Origin: https://www.calvindude.com/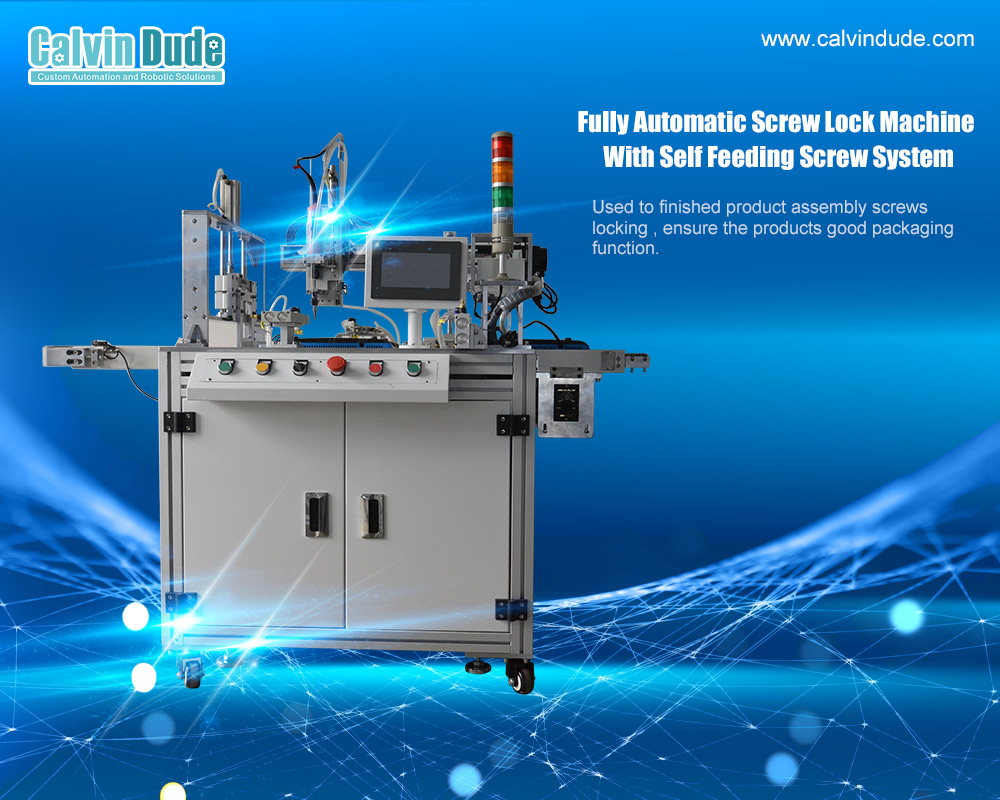 A Comprehensive Guide On Screw Assembly Automation For Manufacturing Fully Automated Assembly Line
Assembly automation is an intricate process that is highly dependent on the specification of the task at hand. The level of automation required for any production plant or assembly line is decided by choosing what type of machine would be better suited to fulfill the manufacturing or assembly requirements for any given product. There are various options for automation devices such as screw feeder and screw driving systems put forth by our diligent automatic screw feeder machine manufacturers. Here is a brief detail of all of them to help make an informed choice.
Standalone Automated Screw Feeders & Screwdrivers
These standalone devices are good for personal and small-scale professional use. They help with personal, DIY, and school projects. All these devices are great for locking and unlocking screws on appliances or projects of every size and shape. An independent screw feeder is loaded with a bunch of screws which are sorted sent forth in a singular line. The individual screwdrivers are used to collect the screws and place them in position for locking. The locking of screws with devices provisioned by automated screw driving system manufacturers is done by applying gentle pressure on the screw head or by using controls along the grip line o the device. With these independent devices, operator assistance is needed to pick the screw after they are sorted through the feeder. This is done by hand while using a generic electric driver that only locks screws. However, some automatic feed screwdriver system manufacturers also provide higher automation for the screwdrivers. All these drivers are capable of collecting screws from the feeders using a magnetic, vacuum suction, or pneumatic collection method. Choosing a particular device depends on the operator's preferences. This the simplest level of automation for the screw feeding process and driving system. It improves work efficiency and quality greatly.
Handheld Automated Feeders and Screwdrivers
Combining the independent assembly automation screw feeders & drivers into one collective system is a great improvement. In these devices, the screw feeder and driver are attached to make one device that sorts, supplies, and locks the screws in place. Though these devices are now combined they still work on the same screw sorting and locking principles. These combo devices are available as handheld devices of two types. There are handguns and spring-loaded devices. They both require operator intervention to work but still improve work efficiency greatly. The handgun is loaded with screws that are sorted and supplied through a nozzle to the tip of the screwdrivers directly. The tip is aimed at the screw hole and with easy controls on the device, the screws are released in position and locked neatly. In this process, only one hand is needed to work on the device while the other one is free.
With the spring-loaded version of screw feeder and driver, the proficient automatic screw feeder machine manufacturers have combined them into one easy use machine. The device is used by an operator to place screws and lock but it is mounted on some mechanism on the wall or overhead and pulled down to the worktable whenever a screw is required for locking. It feature allows the operator to move and position the device being assembled on the worktop using both hands and then easily drag the device to work and then let loose. It will revert in original position due to the spring mechanism making handling the device much convenient. These handheld devices are great for usage in the manufacturing and assembly without causing fatigue to the operator and deliver max efficiency and high work quality.
Semi-Automated Screw Feeders & Drivers
The semi-automated devices are best for medium to high-scale production or assembly requirements. In these devices, the effective automatic screw feeder system & driver system are combined into one useful device. They are implanted in two ways; desktop setup and fitted version. The desktop device works on one unit at a time and may require an operator to load the product being assembled onto it. After that, depending on the sophistication of the desktop device it takes over and supplies and locks all the screws needed. In some versions of the device, the operator may be required to rotate or position the product as needed.
The fitted version is mainly used in the production plants or assembly lines. It works by moving one by one over the devices in a fixed plane and locking the screws. An operator may be needed to upload the product onto the line or they are moved over the conveyer belt towards the devices to put in and lock the screws. These devices work on one item at a time but are be configured with the assistance of convenient automatic screw feeder machine manufacturers to work on different devices. They are exceptionally efficient and offer great precision & accuracy for high-end products.
Fully Automatic Screw Feeder Systems and Screwdriver Systems
The best version of assembly automation screw feeders & automatic screw feeder systems are fully automated devices. They are combo devices that both sort for supply and lock the screw in their respective locations. However, these are more sophisticated than the predecessors and work as robotic arms. The arm is fitted with the specialized devices provided by automatic feed screwdriver system manufacturers to move in multiple axes and work on a product assembly from any direction needed. The device works on one unit at a time until it's completed before moving on to the next one.
These fully automated devices supplied by automated screw driving system manufacturers, function with help of programming. The coordinates for the screw placement and locking details are uploaded to the machine and then it works on its own flawlessly. They work with minimal to no supervision and can detect errors and misses in the assembly process that is fixed easily. The device is reprogrammable and can just as easily reconfigured to work on a different device.
All these devices offer different benefits and all businesses can take advantage of automating their production or assembly from these smart assembly automation screw feeders & driver systems.