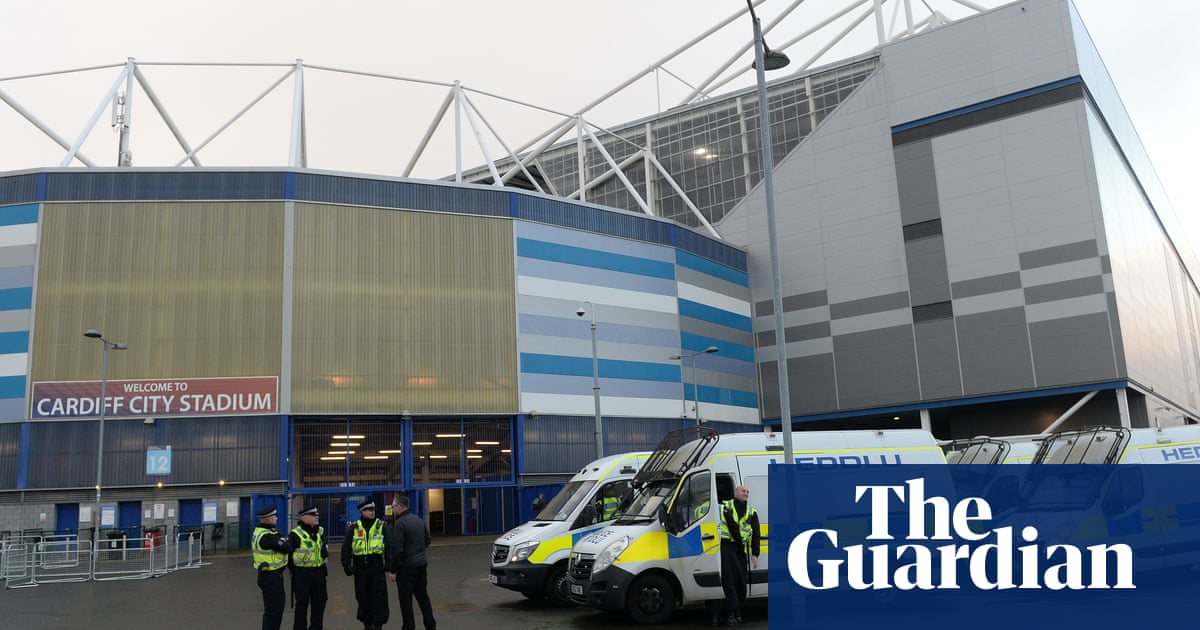 Football fans and civil rights activists were upset and concerned about the use of facial recognition technologies for a derby game in South Wales.
Before the club's game against Swansea City on Sunday, two surveillance vehicles equipped with the controversial technology were patrolling the Cardiff City stadium. Some fans put on masks, wore sunglasses and hoods, or wrapped scarves around their faces to disguise their appearance.
Before the kick-off, a protest was held outside the stadium, organized by the Big Brother Watch campaign group and the Cardiff City fan club. A banner was hidden during the reading of the championship game: "No face recognition."
"It feels like our rights are being taken away," said Anthony Moore, a former soldier and Cardiff fan of more than 40 years. He came into play with a skeleton mask. "It feels like every single person is now being scrutinized. I haven't seen any problems here for 10 years. "
Another masked protester, who only identified himself as James, said, "It's intimidating. The authorities that protect us are attacking our rights.
"Football has made huge strides. The police are doing a wonderful job, but that's a step further. We are becoming the most viewed city in Europe. I think we need more boots on the ground than cameras. "
Two vans with facial recognition technology were seen. One was parked half an hour across from the Admiral Napier Pub, a popular hangout for Cardiff fans, a 10-minute walk from the ground.
Before the game, which ended 0-0, there was also a van on Sloper Road, one of the main routes to the stadium.
Big Brother Watch members distributed leaflets warning fans of the delivery trucks. The package leaflet explained that faces were scanned and their identity checked against a database. Studies have shown that facial recognition often misidentified black people.
Vince Alm of the Cardiff Fan Club said: "I think using this technology is out of proportion to the risk that this game entails. It violates people's right to privacy. I think there is another motive – the police in South Wales are trying it out and think they can get away with it at football matches. "
The protest was cheerful and the masked fans said, "We're Cardiff City, you can't see our eyes" in front of the statue of the club's captain, Fred Keenor, who won the FA Cup.
Richard Duckfield, who participated in the game with his daughter Georgia, said: "Football fans are being followed. We are treated as if we are guilty unless we have proven innocent and not the other way around. "
Silkie Carlo, director of Big Brother Watch, said football fans were treated like guinea pigs. "The police think they can get away with treating fans like this, and the rest of society doesn't mind," she said.
Before the game, Arfon Jones, North Wales Police and Criminal Investigation Officer, one of the leading figures on law and order in Wales, criticized the use of the technology. "It's a step too far and can lead to misjudgments," he said.
South Wales' deputy chief of police, Andy Valentine, said the police used the technology to prevent crimes against people who wanted to be interviewed for football-related offenses or people who were convicted of football-related crime and who were subject to prohibition instructions.
He said the data of all people covered by the technology on Sunday who were not on the "watch list" would be deleted immediately.