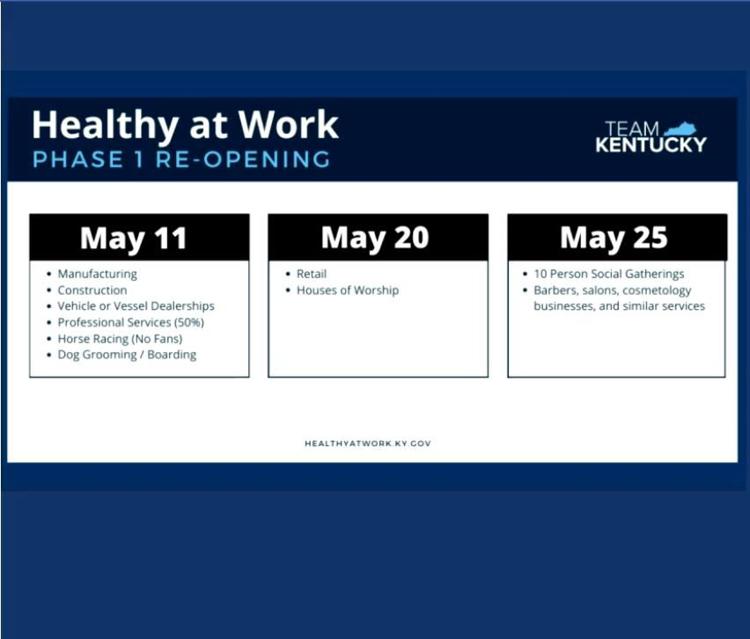 FRANKFORT, KY – Governor Andy Beshear announced a gradual plan to reopen stores in Kentucky. The first phase begins on May 11th.
Beshear outlined the first phase of the state's healthy work plan during his daily COVID-19 briefing, which took place at the Kentucky Emergency Operations Center in Frankfurt on Wednesday.
The first phase includes three important dates: May 11th, May 20th and May 25th.
From May 11, production, construction and vehicle or ship dealers as well as animal care and catering companies can be reopened. Horse races like Churchill Downs can also be opened, but without fans present. Professional services can be resumed up to 50%.
From May 20, retail stores and places of worship may reopen.
Meetings of 10 or fewer people may resume on May 25. Hairdressers, salons and cosmetics companies are also allowed to reopen.
Beshear said the plan would depend on Kentuckians "doing it right" by following social distancing guidelines and other COVID-19 restrictions.
Companies that are allowed to reopen must operate according to the 10 "Healthy at Home" rules of the state. Those are:
If possible, continue teleworking.
Use a gradual return to work.
Have the temperature / health checked on site.
Wear universal masks and other necessary personal protective equipment.
Close common areas.
Force social distancing.
Limit personal meetings.
Have hand disinfection / hand washing stations.
Make special accommodations.
Do you have a test plan.
Beshear announced that 184 new COVID-19 cases and 10 new deaths were confirmed in Kentucky on Wednesday. On Wednesday evening, the total number of cases in the state was 4,539 with 235 deaths. Beshear said 1,668 people had recovered from the disease.
This is a groundbreaking story and is being updated.