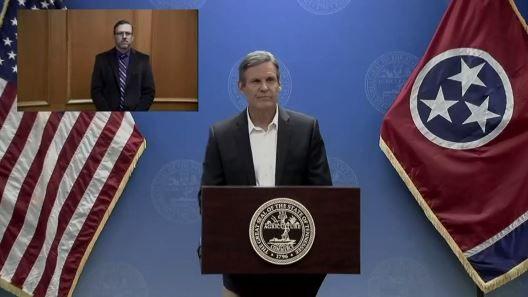 NASHVILLE, TN – Governor Bill Lee enacted a new executive ordinance Tuesday as the state takes steps to reopen its economy. Executive Order 30 sets out the practices that employers and individuals must follow when returning to work.
The order applies to 89 counties across the state. The six districts not included in the order – Davidson, Hamilton, Knox, Madison, Shelby and Sullivan – have locally run health departments. Because these districts have non-state health departments, Lee's command has the power to issue additional orders and measures to limit the spread of COVID-19.
The governor announced on Tuesday that the gyms would reopen on Friday in the 89 counties included in the order. Lee said the gyms can only operate at half capacity. Fitness courses are also held at half capacity, and participants cannot share equipment during these courses. Retailers in these countries can also reopen, with guidelines for social distance.
Executive Order 30 states that companies include barber shops; Hair, wax, thread and nail studios; Spas; Body art and tattoo shops; Tanning salons and massage shops will remain closed for the time being. A number of entertainment venues will also remain closed for the time being. Read the full executive order in the document below to see the full list of companies that cannot be reopened and the full list of restrictions that employers and individuals in companies that reopen must follow.
During Lee's COVID-19 briefing on Tuesday, the governor said prisons, schools, and other public agencies needed to adapt to a new security policy. "This integration will be costly. To the extent that we can use this federal funding to make these adjustments, we can reduce the burden on our state and local budgets even more. And that is exactly what we will do." "Said Lee.
On Tuesday, the Tennessee Department of Justice announced that 756 inmates in seven state prisons tested positive for COVID-19, including 93 inmates at the Trousdale Turner Correctional Center in Trousdale County. The Correction Department said that the majority of inmates who tested positive for the virus are asymptomatic. Eight inmates were hospitalized, but the TDOC said that all but three of these inmates were released from the hospital and are recovering.
In its announcement, the TDOC announced that a new round of mass testing was underway at the Trousdale Turner Correctional Center. All inmates will be tested starting Tuesday, and employees will be tested starting Wednesday.
As of Tuesday, the Tennessee Department of Health reports that 10,052 cases of COVID-19 have been confirmed across the state, including 188 deaths, 894 hospitalizations, and 4,921 people who have recovered. To date, 161,928 people have been tested on COVID-19 in Tennessee.