Hobbs and Shaw

Actors: Dwayne Johnson, Jason Statham, Vanessa Kirby and Idris Alba
Directed by David Leitch
The spin-off from a franchise like The Fast and the Furious without the best-known face of Vin Diesel shows the manufacturing house's confidence in the relatively newer entries in the series, and the movers and shakers were not wrong in their assessment that Dwayne Johnson and Jason's cynicism Statham makes an intoxicating cocktail that makes you whistle loudly. It's one of those spin-offs where you completely ignore what the original cast might have been like.
Add to that Idris Alba's half-human, half-robotic touch, of course, with his weird cheek that makes you wonder why he's not yet playing James Bond, and you get 132 minutes of ridiculously exciting action scenes and a few surprises speculate more in the series.
Let me be clear – this could have worked as an independent film. We don't need the "Fast" and "Furious" tags to get our attention. But that must have helped. The tone of the action scenes from the original franchise is clearly shifted. It is no longer a matter of wisely using less nitrous oxide for more thrust. Slow-motion uppercuts and Ukrainian scientists have also sneaked into Johnson and Statham's life.
Read: Spider-Man Far From Home Movie Review
Read: Annabelle Comes Home Movie Review
What hasn't changed is the idea that the family is the place to return in time. Luke Hobbs (Johnson) returns to Samoa and Deckard Shaw (Statham) travels to his childhood. This is also the occasion for Deckard's sister Hattie (Vanessa Kirby) to do some punching and her mother Magdalene (Helen Mirren) to say a few things about the family that were done to death. In short, family is probably the only emotion worth dying for.
You also meet Idris Alba, who pours out his heart and tries to add some mortality to the drill action planned every 10 minutes. You're almost a robot, why don't you do what others do? That kills people because they are only within your reach. Because when he does, he looks a lot more stylish than the two guys he brought together for the franchise.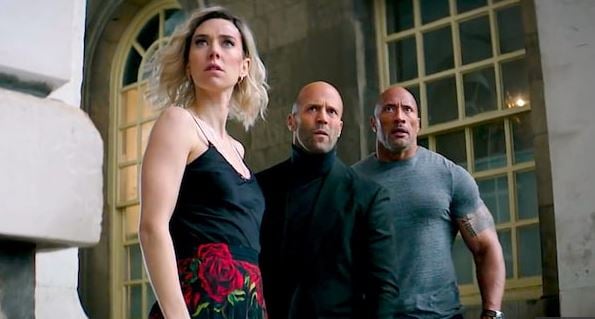 They may differ, but the films "The Fast" and "The Furious" were mainly about this one action scene that could drive you crazy on your seat. Whether Paul Walker would go around the corner in time or whether Letty would take her subconscious before it was too late. This time, director David Leitch rejects the idea of ​​reaching this predetermined breaking point and places his canvas evenly on it. You learn more about the people behind hard outsides and incredible muscles.
The sharp one-liners, jokes, and other tried-and-true breathers like cameos and occasionally vulnerable colorful jokers are all present in Hobbs and Shaw. As for writing, the tone was the same, maybe a little less serious. Vin Diesel's absence means something, doesn't it?
Hobbs and Shaw are so action-packed that you occasionally look for kisses or a dance number. Instead, Roman Reigns maneuvers himself to the camera with a spear in his hand.
In any case, it does more than it promises. It is a solid, adrenaline pumping film with a fixed focus. It's fun and you don't even have to worry about what The Rock cooks.
Rating: 3.5 / 5
consequences @ News18Movies for more
Get the best of News18 in your inbox – subscribe to News18 Daybreak. Follow News18.com on Twitter, Instagram, Facebook, Telegram, TikTok and on YouTube and stay up to date with what's happening in the world around you – in real time.