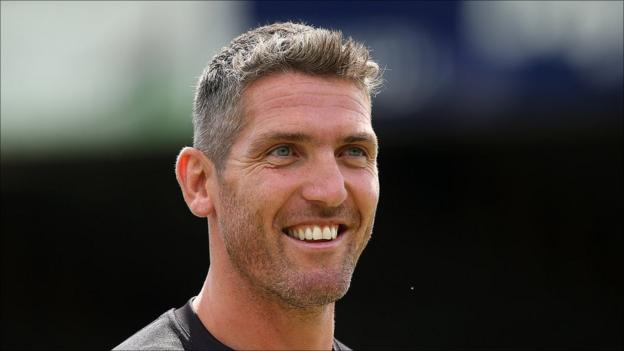 Wales back James Hook has announced that he will step down from rugby at the end of the season.
The 34-year-old played 81 times for Wales and toured South Africa with the British and Irish Lions in 2009
Hook says he wants to "go out and play in the garden" with his three young children, in order to extend his rugby career and risk injuries.
Becoming a children's book author is also part of Hook's future career goals.
Hook will spend the rest of the season with the Ospreys before hanging up his boots this summer to focus on a number of rugby children's books and a coaching career.
Having seen first hand the physical stress caused by close friends and teammates, he is now only happy to be able to leave the game on his own terms.
"Many of my close friends at Ospreys retired and had to retire early because of injuries," said Hook.
"The nature of the game is really physical now. You are playing a game and it takes three or four days to get over the bumps and bruises.
"I have a young family. I have three boys and also a woman and I want to be able to go out in the garden and play with them and play a ball.
"I consider myself one of the lucky ones. Life offers more than rugby."
"I should have done more"
Hook scored 352 points in 81 tests between 2006 and 2015. He was part of two Grand Slams and three Six Nations winners and took part in three World Championships.
There have been club stays in Perpignan and Gloucester, but his major success – including two championships – came from Ospreys, where he started and ended his professional career.
Almost from the moment Hook made himself known in the professional scene, he became a firm favorite with home fans at Liberty Stadium and beyond.
But it was only in the last game of the Six Nations in 2007 that he conquered the international stage with an inspiring performance against England.
A catastrophic championship provided the prospect of the wooden spoon in the last game before Hook discredited his 21 years with a composed performance by fly-help, a position he shared with Stephen Jones and Dan Biggar.
There was always a James Hook riddle: where does he play? 10? Yes. 12? Good yes. 13? If needed. 15? Maybe. Its versatility proved to be a strength and weakness.
"I think I should have done more," he said.
"I played in different positions. I started at half-time, went up to 12, then up to 13 and played at 15. It's pretty much the story of my career.
"Maybe that was a factor. I was probably sometimes to blame for not playing and pinning down certain positions.
"This is rugby, you know."
Become a children's book author
When he sees the end of his career, his thoughts about rugby and the next chapter come alive.
After playing in Wales, France and England's top leagues, he has no desire to leave the game permanently with a testimonial year that is the first in a series of planned projects.
Efforts to assist mentors like Stephen Jones and Neil Jenkins as coaches are at the forefront of his considerations, as plans to complete his coaching badge are already in place.
But it is literary rugby that first draws his attention as he prepares to launch a series of children's books centered on the exploits of a young rugby player and dream of reaching the top.
On the hunt for a rugby dream: The start is planned for spring and its origin is thanks to the trip to a book fair with his eldest son Harrison.
"There was a book fair after school and he asked me if we could get a book and he wanted a rugby book," said Hook.
"I was really shocked because there was no rugby book there. It was all full of football and a few other sports, so I said I would get one online and there was nothing.
"I thought there was an opportunity here, so I wrote down a few ideas."
The first, which he hopes will be an ongoing series, will be released in the spring before the run-in at the end of his last season as a professional player.
When he finally has time, spare yourself a thought for a couple in the nineties who also need to make a change.
Grandparents Will and Betty were the first to call Hook on every day of his career.
"I've called her almost every morning before the game since I was a child," said Hook.
"No game has passed in which I haven't spoken to them, so I'll probably miss this part of it.
"There will be little things like that. Just show up for training and see the boys, and only things that you take for granted that come at the end of the season will be taken away.
"It gets sad because I've played the game for so long, but I want to stay with it and enjoy life after rugby."
https://ichef.bbci.co.uk/onesport/cps/624/cpsprodpb/DF7E/production/_110441275_cdf_270719_cf_paul_james_testimonial_079.jpg