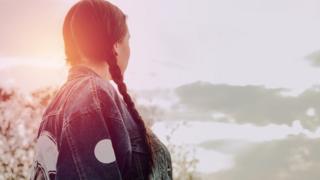 Researchers have identified new genetic mutations that could shed new light on the biological causes of schizophrenia.
The Cardiff University team analyzed genetic data from 3,400 families affected by mental illness, in the largest study of this type.
Mutations were found in only three out of every 3,000 people with the condition.
Dr. Elliott Rees, of Cardiff University, said that "potentially brings us one step closer" to new drugs.
Scientists have already identified specific genes that can predispose people to neuropsychiatric disorders, such as autism and developmental delay.
This latest study, published in the journal Nature Neuroscience, specifically analyzed those "high risk" genes and focused on mutations in one in particular, known as "SLC6A1, C".
The results pointed to alterations in the way brain cells communicate as a possible cause of schizophrenia, the researchers said.
The ultimate goal is to develop new therapies for the condition, which affects approximately 1% of the world's population, and approximately 600,000 people in the United Kingdom.
What is schizophrenia?
Schizophrenia is a serious long-term mental health condition. It causes a variety of different psychological symptoms.
Doctors often describe schizophrenia as a type of psychosis. This means that the person cannot always distinguish their own thoughts and ideas from reality.
Symptoms can include hallucinations, delusions, confusing thoughts and a loss of interest in everyday activities.
Source: NHS
Dr. Rees, of the Medical Research Council Center (MRC) for Neuropsychiatric Genetics and Genomics, has been working on the study for three years.
He said he hoped he could help "identify the key genes involved" and provide "molecular targets for the development of new drugs."
And Professor Sir Michael Owen, former director of the MRC Center and one of the study's authors, said the findings also suggest that new genetic mutations could also increase the risk of other disorders, such as autism and developmental delay.