In case you missed it
LeT encounter: Two Lashkar-e-Taiba militants, including terrorist outfit divisional commander Shakoor Ahmad Dar, were killed in an encounter with security forces while another surrendered in Kulgam district, South Kashmir on Sunday. Dar was one of the 21 militants on the security forces hit list that were being prepared as part of a new military offensive aimed at destroying the leadership and organizing the capabilities of terrorist outfits across Kashmir.
Delhi Chipko: About 1500 residents of Delhi took to the streets to protest the recent order to cut at least 14,000 trees in the state capital as part of a redevelopment project in South Delhi. Members of various environmental organizations, activists and residents took part in the Chipko movement in Delhi, hugging trees and chanting slogans against the center's decision to cut down the trees. The project, which aims to make room for central government housing, has created a gap between the Aam Aadmi Party and the center. On Saturday, AAP-MLAs struck the center to make such a decision possible.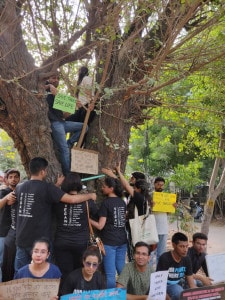 Kidnapped Witness: In a twist on the Lucknow Pass case, in which an interfaith couple was allegedly humiliated and embarrassed by an official before refusing their application, an "eyewitness" claimed that if he was kidnapped from close proximity to his home however flee. The eyewitness evaded questions related to the kidnapping attempt, but claimed that this happened shortly before his planned passport press conference.
Swaraj trolled: Meanwhile, Secretary of State Sushma Swaraj, who returned to India on Saturday after her week-long visit to four European nations, said how she has been attacked by trolls since ordering the transfer of the Lucknow passport officer.
BJP "confirmed": A 19-year-old adolescent, one of the six who had been injured in a farmers' riot last year during a police shot in Mandsaur, was arrested on Sunday for smuggling poppy seeds. BJP leader Rajnish Agrawal said the arrest proves the party's earlier stance that anti-social elements had kidnapped peasant agitation, and the police fired.
Lead by example: An MLA from the Telugu Desam Party decided on Friday evening to sleep in the Hindu Smasana Vatika crematorium in Palakole, West Godavari district, to register his protest against the excessive delay in modernizing a crematorium. The move should also strengthen the confidence of construction workers who were afraid of "ghosts".
Frogs tie the knot: BJP leader and minister of state for women's and children's development in Madhya Pradesh, Lalita Yadav, recently pulled flak out of the opposition for allegedly organizing the wedding of two frogs in a temple in Chhattarpur to appease rain gods. Hundreds of people gathered on the temple grounds to see the unique wedding that was followed by a festival. However, the opposition was not pleased and claimed that the minister's law would promote superstition.
Parting words: When the judiciary and government crossed swords at the Supreme Court over the appointment of Uttarakhand Supreme Judge KM Joseph, Judge J Chelameswar said that he was sorry that a "good judge" failed to "charge" despite "best efforts" has been released. On the eve of his departure from the Supreme Court, Judge Chelames said it was unfortunate that the Supreme Court's Supreme Court judge was not raised in January this year, despite the college's recommendation.
Officer celebrated: An IAS officer in Kerala shared the lunch served to a state school in Neerkunnam during a surprise visit to assess the quality of the food. The official was praised on social media for his engagement.
No to plastic: As of Saturday, when the Maharashtra government forced a ban on a variety of plastic items, Environment Minister Ramdas Kadam said that defective manufacturers will be subjected to severe measures, but ordinary people and small traders will not be bothered.
Role too real: Former Game of Thrones co-star Kit Harington and his girlfriend Rose Leslie got married on Saturday with a service and celebration at the bride's ancestry in Scotland.
Children reunited: The U.S. Department of Homeland Security announced on Saturday that the government has reunited 522 children separated from adults as part of a "Zero Tolerance" initiative and plans to reunite another 16 children within the next 24 hours.
Sunday FEATURES: India's mini-Afghan colony is a mix – a confluence of cultures to create a mix that is both familiar and foreign. Raka Mukherjee explores Bollywood and cricket and the secret behind the "Indianness" of the Afghans in Delhi.
Book review: "Kannur, where the author, the son of a leading communist politician, was born and raised, is an intimate portrait of a place and its politics. A cult of killing and reprisals seems to be deeply rooted in a place that fully deserves the sobriety of "India's Sicily". Read Shashi Tharoor's review of senior journalist Ullekh NP's new book "Kannur".
Do you agree or disagree?
A 35-year-old Delhi woman on vacation with her family crashed 500 feet two days ago after slipping off a cliff while taking a selfie with her husband. Another man died earlier this week after falling from Gokak Waterfall in Karnataka trying to take a selfie. A month and a half ago, a man tried to take a selfie with a wounded bear and was beaten to death in Nabarangpur, Odisha. These are not isolated cases of selfie death in the last quarter alone. Rajen Garabadu examines the reasons why selfie deaths are increasing.
Most of the PDP's electoral base extends to villages such as Fatehpora in the Anantnag district of South Kashmir. And most of these villages are visibly delighted, some even celebrate the end of the government, led by their own Mehbooba. There is undeniable relief in Anantnag. as if the whole district just woke up from a bad dream.
On the roll
Bakarwals cover six hundred kilometers each year through incredibly treacherous terrain – from Jammy via Kashmir to Laddakh and back. But this year, after the rape and murder of an 8-year-old girl from the Kathua community, life has changed for her. News18 travels 160 kilometers with the Bakarwals to understand their plight.
(Get a new dose of important news delivered straight to your inbox each morning. The perfect way to keep you informed for the day ahead. Subscribe to News18 Daybreak here.)
Get the best of News18 in your inbox – subscribe to News18 Daybreak. Follow News18.com on Twitter, Instagram, Facebook, Telegramm, TikTok and on YouTube and stay up to date with what's happening in the world around you – in real time.