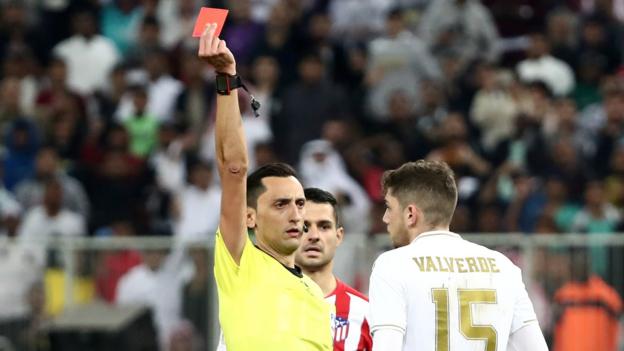 Sometimes desperate times require desperate measures.
Federico Valverde helped Real Madrid win the Spanish Super Cup against city rival Atletico Madrid on Sunday with one of the most cynical fouls you've ever seen – and somehow won the man of the game and a pardon from opposition manager Diego Simeone.
Let us set up the scene for you. You play against your closest rivals in a final. It is 0-0. So far, so stormy. Extra time. Alvaro Morata sees his effort hit the target. You can let it through or chop it down. How's it going?
If you are Valverde, there is no question.
He was dropped for this dark arts exhibition, but Real won the match on penalties 4-1.
Thousands of fans praised the actions of the 21-year-old Uruguayan midfielder on social media. Hundreds demanded the erection of a statue in his honor.
Real Madrid later published a picture of Valverde on Instagram entitled "Not all heroes wear cloaks".
After the game, the player apologized to Spanish striker Morata and added, "I know that what I did is not a good thing, but I had no choice."
It's kind of … admirable … let's guess?
Simeone certainly seemed to believe that – which may be surprising until you remember that he wasn't exactly shy about the dark arts during his own playing career (David Beckham, do you read that?)
After the game, former Argentine midfielder Simeone said: "The award for best player has to do with this piece of the game.
"Valverde won the final. It was the most important piece. It would probably be a goal. I told him that he did what he had to do at that moment."
In addition, despite being dismissed, Valverde was elected man of the game by Spain coach Luis Enrique.
Not all supported this decision, including the Spanish newspaper AS.
What is Valverde's Skulduggery rank?
One of the archetypes must be Valverde's compatriot Luis Suarez, who plays on the line to deny Ghana's Dominic Adiyiah and wildly celebrates the missed penalty with which Ghana retired from the 2010 World Cup.
Then you have Pepes histrionic fall after the slightest touch of Morocco's Medhi Benatia at the 2018 World Cup.
Or further back in the annals, Cristiano Ronaldo winks after successfully lobbying the referee and sending his former Manchester United teammate, Wayne Rooney, to England at the 2006 World Cup.
Really reprehensible / admirable stuff … depending on your perspective.
While you're here, try this out Instructions for tactical fouls,
https://ichef.bbci.co.uk/onesport/cps/624/cpsprodpb/EC67/production/_110491506_valverdered_reu.jpg