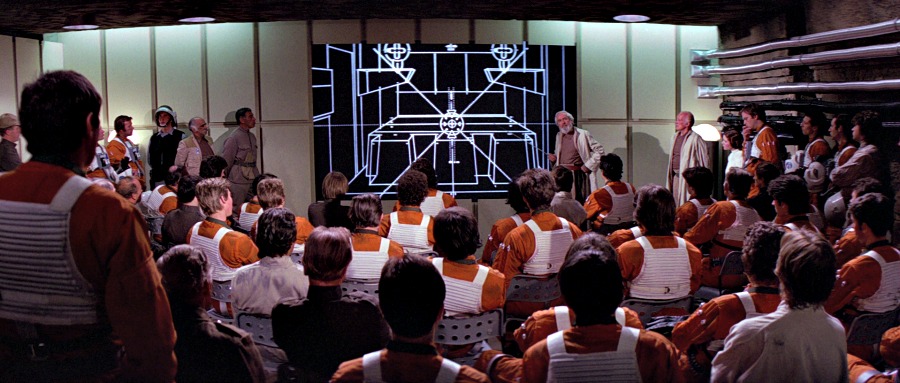 In between the next big-screen Star Wars triology (which kicks off with this December's Star Wars: The Force Awakens), there will be standalone movies, beginning with 2016's Star Wars: Rogue One, which just confirmed its story, a new title and additional details during a panel at Star Wars Celebration.

Here's the story


Above: Concept art shown during the panel

First, from the official Star Wars Twitter comes our first plot synopsis for the film, arriving in theaters on December 16, 2016.

"A band of resistance fighters unite for a daring mission to steal the Death Star plans in the Star Wars Anthology film, Rogue One."

Fans will recall how the swiping of those Death Star plans directly leads into the first Star Wars film, in which the rebels had already acquired the plans and eventually used them to blow up the planet-destroying base, with an assist from Luke Skywalker (and the Force), of course.

Not much is known about how they acquired those plans, and that's the story this movie will tell.

As of now Felicity Jones is the only announced cast member. She'll be playing a rebel fighter, while Greig Freser, who shot Zero Dark Thirty, will help create an authentic war-movie feel as its cinematographer.

Remember how director Gareth Edwards infused Godzilla with a gritty war-movie vibe? Expect him to do that with Star Wars, which, after all, has the word "Wars" in its title.

Oh, and there's a teaser trailer

The film isn't in production just yet, but a teaser trailer was shown during the Star Wars Celebration panel. Over an Obi-Wan voiceover from the first Star Wars — where he talks about how the Jedi helped police the galaxy until the dark side took over — we follow the camera through a jungle canyon until it eventually pans up and reveals the Death Star.

Note: The gif below is from A New Hope and not the Rogue One teaser trailer, which hasn't been released yet officially.

And about that new title

It looks like Disney is going to be selling these new standalone movies as part of an anthology, as the movie is now being placed under an anthology umbrella. See logo below, via Slashfilm.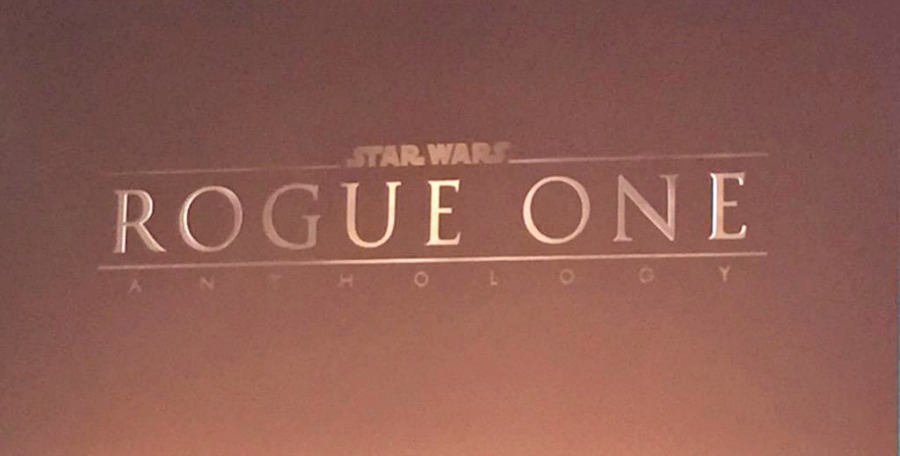 According to some tweets, Star Wars Rogue One will feel like a war movie

"It's called 'Star WARS,'" Edwards points out – it's very much a war movie, lots of dept. heads from Black Hawk Down, Zero Dark Thirty etc.


— Laura Prudom (@LauInLA) April 19, 2015

What's a Star Wars panel without a great "Mom" moment?

This is the moment that Gareth Edwards told his mom he would be directing a Star Wars movie. pic.twitter.com/Jct4jgo63R


— Peter Sciretta (@slashfilm) April 19, 2015

Finally, director Garth Edwards shows off his nerd cred

Gareth Edwards is a real Star Wars fan. He spent his 30th birthday visiting the set of the Slywalker home. pic.twitter.com/Q9KnaIPTzh


— Peter Sciretta (@slashfilm) April 19, 2015

Want even more Star Wars?

Check out the newest trailer below — as well as this post on all its best gifs — and our report from the Star Wars Celebration panel for The Force Awakens, in theaters December 18.

Follow Tiffany Smith's adventures at Star Wars Celebration

If you haven't watched her videos yet live from the nerdiest Star Wars convention ever. Check this out below, and more right here.