MCCRACKEN COUNTY, KY – Hundreds of you are currently in need of some financial help, and local nonprofits and cities are committed to raising funds. The Paducah-McCracken County United Way has launched a Necessities Grant program.
The need is greater than the means they need to help. 228 people applied for support within eight hours of the opening of the grant application portal, which resulted in United Way initially no longer accepting local grant applications.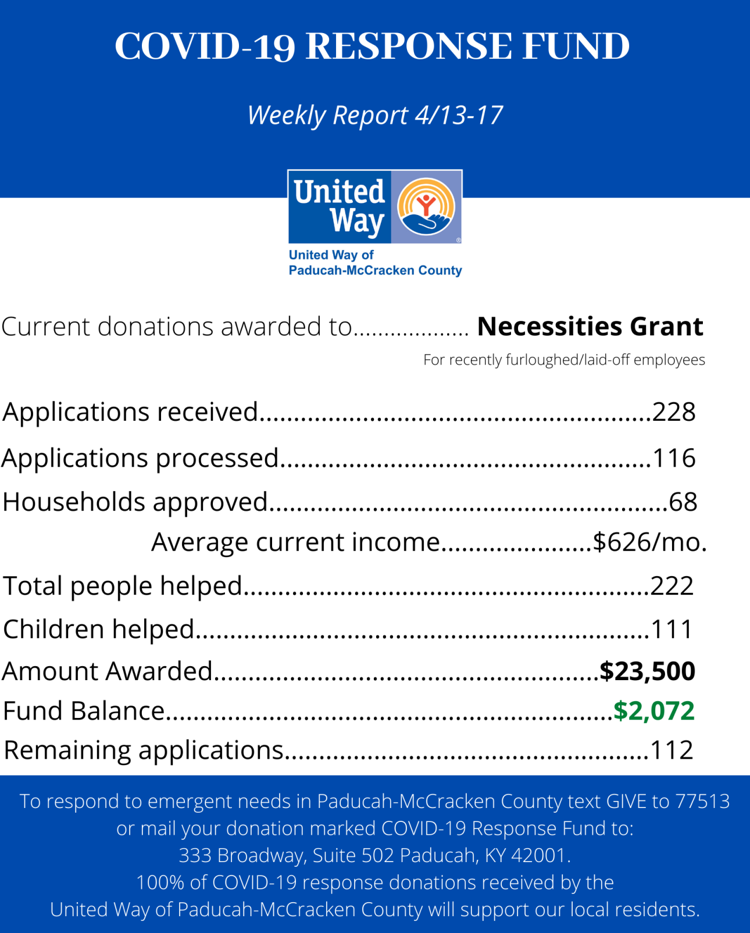 "I see applications from families who have never asked for help," said managing director Betsy Burkeen. "For example, both the mother and father of a family of four have been working for years and are unemployed for the first time in their lives and have no income."
Burkeen said Paducah-McCracken County's United Way has approved 68 grant applications. Each family receives a $ 250 or $ 500 Visa gift card, depending on the family size. A total of $ 23,500 will be spent later this week.
With 112 more applications, only about $ 2,000 remain in the fund.
"I have to be really confident that financial support will be available before we reopen the website," said Burkeen. "What I don't want to do is send false hope to our local community members."
Donating is a way to help your neighbors keep the lights on, have the pantries full, and meet other needs.
You can donate to the United Way of Paducah-McCracken County by sending "GIVE" to 77513. You can also send your donation labeled "COVID-19 Response Fund" to 333 Broadway Suite 502, Paducah, KY 42001.