Why picking and locking screws is so important and why you should build manufacturing fully automated assembly line
Views: 2 Author: Automatic Screw Feeder Machine Manufacturer Publish Time: 2021-05-11 Origin: https://www.calvindude.com/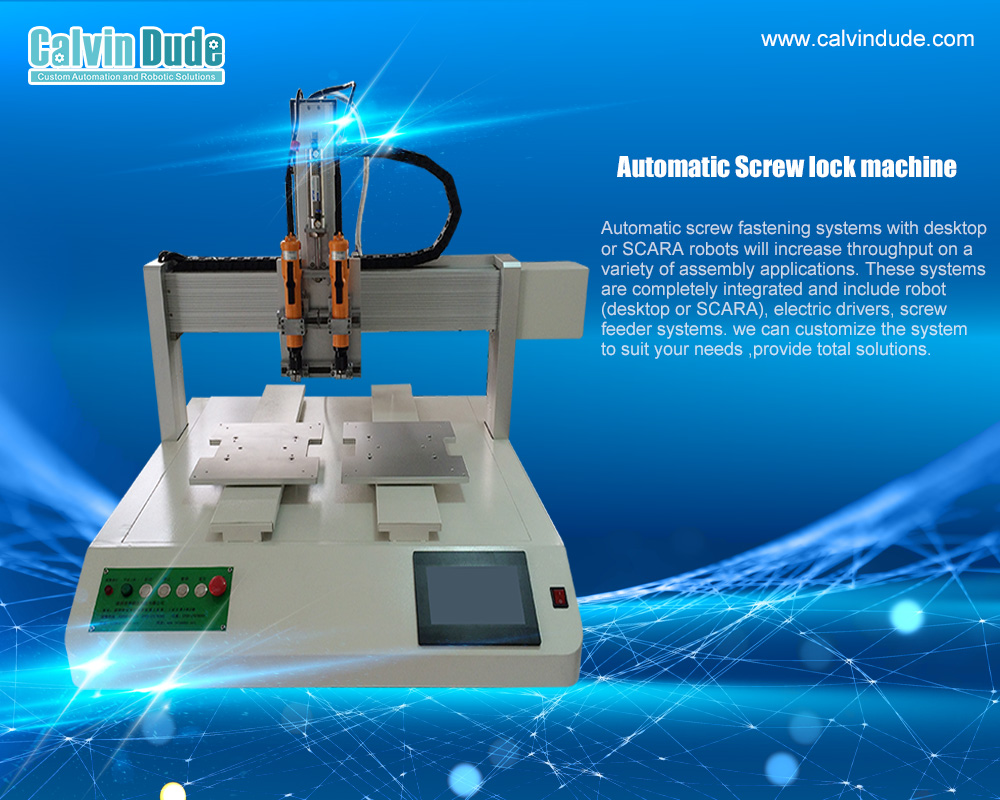 Why picking and locking screws is so important and why you should build manufacturing fully automated assembly line
There is a high demand for machines that make things easier, especially in production companies. Different companies have different needs as far as machines are concerned, and the need usually depends on the process at hand.

Automatic screwdriver systems are in very high demand today for very clear reasons. The machines are used widely regardless of the industry in question. They are also used in electronic shops for purposes of accessing and fixing electronic products of different types. You should consider your entire process if you want to pick the most ideal machine for your business.
Some companies employ operators to handle the picking and locking of screws. This is an important part of assembly and production. This slow process has very high margins of error. This is why it is best to automate the entire process to ensure that you get the best outcomes and complete tasks promptly.
Automatic screw tightening machines are designed to make things easier during production. They can be used in different industrial settings and factories as well. This is because there are so many machine parts that require the very important screwing processes.
When you are handling big projects, you cannot ignore screw-tightening tasks. These are things that you cannot manage to do manually and expect a good turnover. You need screw tightening systems. Getting the best machine is one of the greatest investments you can make for your company.
Why you need the automatic screw tightening machines
Automatic screw fastening machines are very important, and they are easy and safe to use for your processes. People within the different industrial electronic fields can use such machines to install the correct types of screws. The screws needed depend on what you are producing or assembling. You should choose the best mechanism, and it is even better if it can be adjusted for accuracy when you are tightening or locking screws.
Trying to fix screws manually can be a tricky affair. Some try to use screwdrivers to access screws on different devices but can hardly achieve any reasonable results.
By choosing a good screw tightening mechanism, you can repair and assemble different devices. Automatic screw machines are used quite widely in this respect. The machines are designed to work automatically, and in some cases, different features are included to give the best outcomes. They can be customized as well for an even more specialized operation.
General features
Automatic screw fastening machines serve many purposes and have many features. These features provide great benefits and usefulness to the buyer. There are convenient features you out to look out for even though this depends on your particular need for that kind of machine.
The best machines can:
• Detect errors such as wrong tightening, slips, and missing screws
• Picking and locking screws
• Flexibility in terms of the assembly of different devices bearing different screw sizes
• Adaptation to power done easily
• Possibility for customization
• Some can be used for different types of screws and different types of products
For picking and locking screws, the automatic screw driving machines are a welcome choice because they minimize errors and are easy to operate. They are the cost-effective option for all your processes.